Tuesday, July 09, 2013
sketched by

alina neko
around 10:22
1 comment: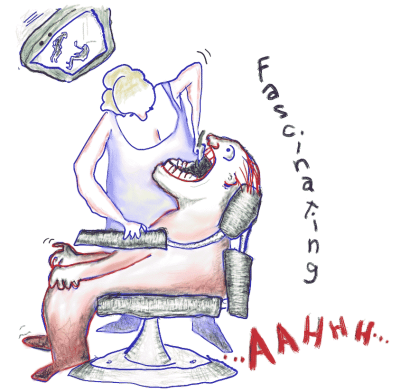 as i said on this post
since i've undergone all the necessary treatments
the only job left as the patient requires me to

keep my teeth clean

and
make sure that my

plague percentage is good

(less that 20%) for

three continual visits


so that they can pronounce me 'SELESAI' and close my case
side note:
i have little knowledge on sir aki course requirements
but it's enough to tell me how desperate she is to close her clients' cases
she oftens scowls at the mention of her clinic session, it has become a taboo issue at home

i sacrificed

two days

of my annual leave to attend

oral education thingy appointment


(because they can't produce a time slip if clinic session don't take place)
my last plague percentage was

27%


and on this post i announced to start using

dental floss


following that visit, my plague percentage have

dropped
from 27% - moderate

(2nd visit)
to

11% - good

(3rd visit)
to

3.6% - excellent

(4th visit)
and on my last visit

0.9% (super duper excellent :P)!!

(5th visit)
behold!!!
the power of dental floss!!!!
mwahahahaha!!!!

following these three continual

good scores

, my case have indeed been

closed
they stamped

'SELESAI'

on my name with sir aki

smiling from ear to ear
more than the relief of having

no more dental illness

,
her smiles makes me happy

in these

three years

(kok lamer giler! :P) being her patient,

i've learnt

:
1. how to

properly clean my teeth


2.

understand

how

cavity

is formed
3. a few

dental terms

for treatments, tools and whatnot
4. how hard these

dentist students struggle

to perform
5. how

people often take advantages

on them (i hate this the most)

therefore


sir aki

and her loyal partner

jeksyen



thank you



i made a

something-something

for them
i draw them in

acad

, colored in

photoshop

, have them

printed

and

displayed in a frame
and a

few burger king coupons


it's a

lil token

showing my

appreciation
the art
in frame
sketched by

alina neko
around 09:22
No comments: